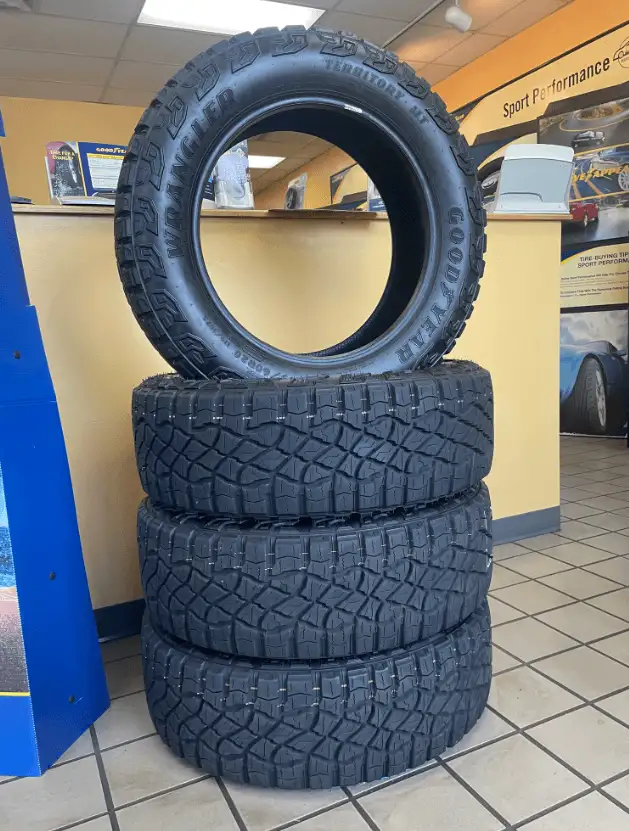 At Jamie's Tire & Service, we sell all major brands of tires, including Goodyear, Continental, Cooper, and Milestar. Our full-service shops stock car, truck, and SUV tires including the Goodyear WeatherReady and Cooper AT3. If you're looking for a tire shop near you in Dayton, Ohio, there's no better place to call than Jamie's Tire. You can shop online using our tire catalog or call the store closest to you to find a great deal today!
What Types of Tires does Jamie's Tire & Service Sell?
At Jamie's Tire & Service, we sell tires for all types of passenger and light truck vehicles. If you need new tires, we offer:
Passenger tires
Truck Tires
Light Truck Tires
Summer Performance Tires
Snow Tires
All-Season Tires
SUV Tires
Tire Brands We Sell
Goodyear Tire & Rubber Company was founded in 1898 and offers tires for all types of cars, trucks, and SUVs. The Assurance and Wrangler lines are reliable tires with exceptional performance and long-lasting tread life.
The Kelly-Springfield Tire Company was founded in Springfield, Ohio in 1894. Goodyear Tires acquired the company in 1935 and integrated them into Goodyear North America as a Major Brand in the Goodyear family. Kelly tires are affordable, but reliable tires for passenger vehicles and light trucks.
Cooper Tires
Cooper Tire & Rubber Company was founded in 1914 in Akron, Ohio. In June of 2021, Goodyear acquired the company, and they continue to produce tires passenger tires in a wide range of sizes.
Continental Tire was founded in 1871 in Hanover, Germany. Continental produces OE and Premium Replacement Tires using the latest tire technology. Continental is known for high-performance and summer tires, as well as all-season tires.
General Tires
General Tire is an American tire manufacturer owned by Continental Tire, started in 1915. In over 100 years in business, they have mastered the process of building quality tires at an affordable price.
Milestar Tires
Milestar Tires are produced by TireCo, Inc. who was founded in 1972. Milestar tires offer both quality and performance, at a competitive price. With fitments for passenger cars, high-performance vehicles, and light trucks, Milestar has an impressive lineup of tires for all makes and models.