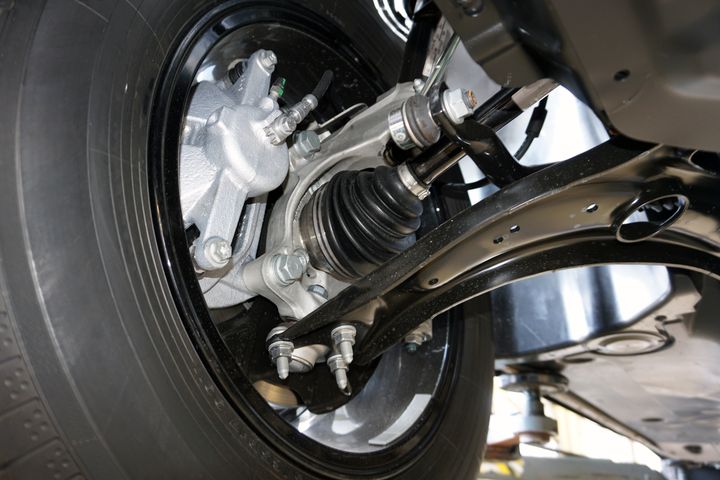 How does my vehicle's steering system work?
Have you ever been driving around Fairborn, OH, and wondered how your steering works? Your car's power steering uses a hydraulic system to amplify the small effort you put into turning your steering wheel to enough power to turn your vehicle's wheels. The steering wheel is attached to a steering shaft, which goes down towards the front axle. At the other end of the steering shaft is a circular gear, which is called the "pinion." The pinion interlocks with the rack, which is a straight gear that connects to the steering arms of your car's wheels through tie rods. When you turn your steering wheel, the pinion rotates, which causes the rack to move either left or right, and your wheels move accordingly. We at Jamie's Tire & Service know exactly how your vehicle's steering system works and can make the appropriate repairs if needed. We've been fixing cars since 1975 and serve residents of Fairborn, OH, Dayton, OH, Beavercreek, OH, Xenia, OH, Bath Township, and beyond.
What are tie rod ends?
Tie rod ends are part of your vehicle's steering system and steering gear. They are the meeting point between the steering rack and steering knuckle; the tie rod ends transfer the force from your vehicle's steering rack to its wheels. Tie rod ends also attach to your vehicle's steering wheel, making turning your vehicle. Every time you turn the steering wheel, the tie rod ends transmit that movement into several parts of your vehicle's steering system until they push or pull the tires to make the vehicle turn.
Tie rods contain an outer tie rod end and an inner tie rod end that are connected and serve various purposes. The outer tie rod end, which is a straight shaft with a rounded part at the end of it, has several parts inside of it. The long shaft body has a ball joint at the end of it through which steering movement is passed. The back of the outer tie rod end usually contains a grease fitting that allows the bearings to spin freely inside the tie rod. Tie rods are secured by bolts that are fastened by cotter pins and castle nuts. The inner tie rod end has a straight body that is covered by a protective rubber boot to keep dust from getting inside of it.
How do I know if my tie rod ends need to be repaired or replaced?
Although tie rod ends are designed to last for a long time, it is a good idea to get them checked when you bring your vehicle in for routine maintenance, particularly if you are driving in poor road conditions, over potholes, or if your vehicle has recently been in an accident. If bad tie rod ends are not checked out regularly and they fail, you run the risk of anything from premature tire wear to losing complete control of your vehicle. We at Jamie's Tire & Service in Fairborn can take a look inside your vehicle and determine if we need to repair or replace a tie rod. Here are some signs to look out for that show your tie rod ends need to be repaired or replaced:
You experience uneven tire wear - If one or two of your vehicle's tires are experiencing uneven tire wear, it probably needs tie rod end repair. Your tires could be misaligned because some tires are doing more work than others. To confirm if this is the issue, our expert technicians can perform a visual inspection of your vehicle's tires.
Your vehicle squeals from the front when turning - If you hear a high-pitched, brief shriek from your vehicle when you turn, this is a sign of faulty tie rod ends. This sound is different from a lower squeak or groan you would hear if your power steering system is low on fluid. A high-pitched squeal could also result from a bad ball joint inside the outer tie rod end.
Your steering wheel feels loose or is vibrating - Loose steering means that you feel that you do not have control over your vehicle when driving. There is a disconnect between your steering motions and the motions of your vehicle. If this happens, it probably means your tie rod ends are loose and most likely need to be replaced. A loose tie rod end can also cause your vehicle to vibrate, particularly when you are cornering or when you are driving at high speeds.
When you turn your steering wheel, your vehicle doesn't respond - In a worst-case scenario, a complete tie rod end failure will result in a complete loss of your vehicle. This is why it is important to bring your vehicle in for regular maintenance. To schedule your next appointment, give Jamie's Tire & Service a call at 937-878-3612.
Your vehicle has poor wheel alignment - If one or more of your vehicle's tie rod ends go bad, the tires associated with the tie rod ends will not perform properly and your vehicle's tires will not maintain their symmetry. This results in poor wheel alignment, which means that some of your vehicle's tires are working harder than others. We at Jamie's Tire & Service can perform front wheel alignment on your tires and determine which ones need tie rod end repair.
Time for a different type of auto repair experience? Think Jamie's - Your Reliable Shop for Tie Rod End Repair
If you are in Greene and Montgomery, the 45324 area, or nearby, you can bring your car to Jamie's Tire & Service for various auto repair services, such as factory maintenance, tire sales, and tie rod end repair. Our technicians and owner Jamie Hensley are expertly qualified auto repair and are continuously trained on the latest automotive technology and auto parts. We are one of the highest-rated auto shops in the area and can fix your Chevrolet, Honda, Toyota, Volkswagen, and any other car you may have.
Reasons You Should Do Business With Us:
Family oriented
Good value/holds value
Proven and reliable
We are experts
Years of experience
Don't hesitate to bring your car to Jamie's Tire & Service in Fairborn today! You can schedule an appointment with us online or give us a call at 937-878-3612.
We have excellent ratings based on reviews from 392 satisfied customers.

Our services come with a 2/24,000 warranty.
Our technicians are ASE Certified, ATI.
Jamie's Tire & Service - Time for a different type of auto repair experience? Think Jamie's